Preparing to Climb Kilimanjaro is an exhilarating venture that draws many to the vast landscapes of Africa. For those taking on this challenge, the first ascent can be daunting, filled with the unknowns of the terrain and the unpredictable challenges of altitude.
Mount Kilimanjaro might not boast the height of some peaks, but its ascent is no simple task, often due to under-preparation and altitude sickness. Yet, success is achievable with the right strategies and knowledge.
This guide aims to shed light on the nuances of Mount Kilimanjaro Climbing, offering valuable insights to equip every climber for the journey ahead.
CONTENTS OF THE BLOG
1- Preparation Before Arriving in Tanzania
1.1 Train for Your Trek
 1.2 Visit Your Doctor
 1.3 Wear in Your Boots
 1.4 Choose Your Trekking Route and Company
 1.5 Join a Group
1.6 Get Your Travel Insurance
 1.7 What to Pack
2- Pre-Trek Preparation in Kilimanjaro
2.1 Arrive a Few Days Early
2.2 Prepare Yourself Mentally
2.3 Stock Up on Snacks
2.4 Meet Your Guides& Hire What You Need
2.5 Pack Efficiently & Relax
3- During Your Kilimanjaro Trek
3.1 Go "Pole Pole"
3.2 Feet Care
3.3 Hydrate Yourself and Eat Right
3.4 Keep a positive mental attitude
3.5 Other Essential Tips
4- After Your Kilimanjaro Trek
5- Let Your Preparation Meet the Elation of Climbing Kilimanjaro
PREPARATION BEFORE ARRIVING IN TANZANIA
Train for Your Trek
While some may be natural trekkers, Preparing to Climb Kilimanjaro involves dedicated effort and advanced training for many. Such preparation is essential for the best shot at reaching Kilimanjaro's peak.
A simple way to begin is by walking around your local area with a loaded bag, simulating the weight of daily essentials like 3 liters of water, snacks, clothes, and a camera.
Training for Kilimanjaro shows how even a light daypack can become heavy over days. Thus, strengthening your back, shoulders, core, and legs is essential for the Mount Kilimanjaro Climbing Tour.
Consult Your Doctor First
Before taking on Kilimanjaro, it's wise to see your doctor. Use this visit to discuss necessary precautions, including malaria medications and altitude sickness remedies.
Prioritise Comfortable Footwear
Your Kilimanjaro Success Rate depends significantly on your feet's comfort. Break in your hiking boots well in advance.
Blisters can be a significant setback, and wearing boots for extended periods differs significantly from short walks.
Pro Tip:To get accustomed to Kilimanjaro Hiking Boots, take them on regular walks around your neighborhood or within your home.
Select Your Trekking Company Wisely
Climbing Kilimanjaro requires the guidance of a licensed professional. When choosing a trekking company, consider not just cost but also their ethical practices.
Many Kilimanjaro Porters, essential to your climb, have historically been underpaid and mistreated. KPAP, the Kilimanjaro Porters Assistance Project, advocates for these workers' rights, ensuring fair pay, good working conditions, and proper care.
It's crucial to choose a company that adheres to KPAP's guidelines. This commitment supports ethical standards and offers a more secure and respectful climbing experience.
Picking the Right Kilimanjaro Route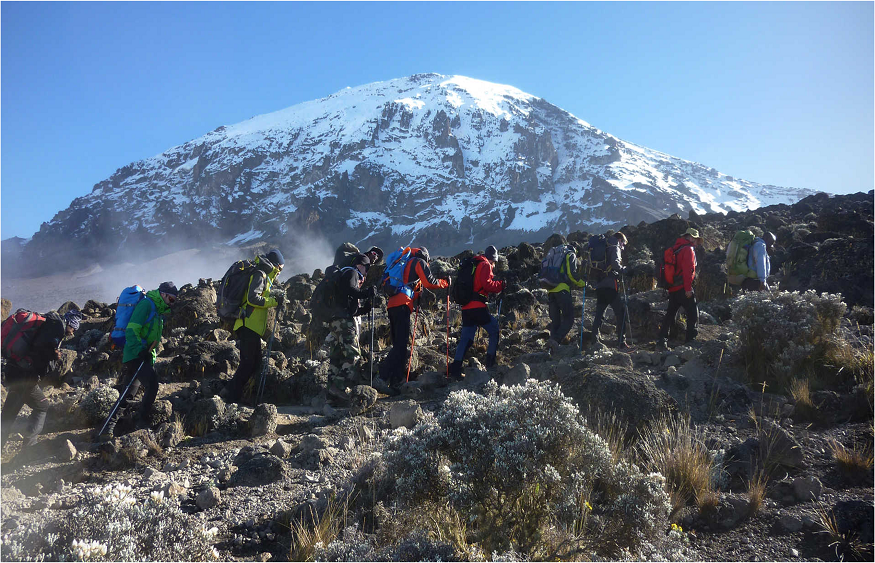 Taking the quickest route up Kilimanjaro might sound tempting, but remember that a more extended journey improves your chances of reaching the top.
There are seven Kilimanjaro Climbing Routes: Marangu, Machame, Lemosho, Shira, Rongai, Northern Circuit, and Umbwe. A more hazardous route, the Western Breach, is less popular.
Marangu is often called the "Coca-Cola" path because of its more accessible slope but has fewer success stories.
Machame, known as the "Whiskey" route, is scenic yet busy.
Lemosho is picturesque and less populated.
Rongai is more straightforward and less frequented.
Northern Circuit is new, scenic, and highly successful. Umbwe is direct and very challenging.
Special Tip: For the best possible Climbing Mount Kilimanjaro experience, we suggest the 9-day Lemosho Route. Click on the link here to learnmore about our Mount Kilimanjaro Packages.
Opt for Kilimanjaro Group Climbs
Climbing Kilimanjaro Solo or in a group is a personal choice. However, group treks, such as Kilimanjaro Group Climbs, offer companionship. Several Kilimanjaro Tours offer group packages, so explore your options.
Ensure Travel Insurance
Medical care isn't accessible in Africa. So, get a solid travel insurance policy to avoid hefty bills for unforeseen sickness or injuries.
Consider providers like World Nomads or InsureandGo. For more information, please read our detailed post on Kilimanjaro Travel Insurance.
Packing Essentials
Your Kilimanjaro Climbing Tours provider will likely offer a packing guide. It's vital to pack light; overpacking can hinder your journey.
If you still need some items, consider renting or borrowing, especially if it's your first Mount Kilimanjaro Climb. However, always use personal hiking boots for the best comfort.
When prepping for your trek, always prioritize safety, comfort, and the best Mount Kilimanjaro Climbing Routes for a successful adventure.Find the detailed Kilimanjaro Gear List here.
PRE-TREK PREPARATION IN KILIMANJARO
Planning and preparation for Kilimanjaro Climbing requires careful consideration of the following strategies.
Arrive a Few Days Early
As a part of your preparation strategy, we suggest you arrive in Tanzania a day or two before to recover from yourflight, arrange your belongings, acclimatize and mentally prepare yourself for your Mount Kilimanjaro Climbing expedition.
Prepare Yourself Mentally
While Climbing Kilimanjaro is challenging, it's also enjoyable. Always have a "Positive Mental Attitude." Picture yourself at the peak, keep a positive spirit, and even during tough times, stay goal-focused.
Boost others, especially those undertaking a Climbing Kilimanjaro Solo adventure. You will see that everyone on the route benefits from a bit of encouragement.
Stock Up on Snacks
You can carry snacks from home or shop at the Moshi supermarket. Our Kilimanjaro specialists often recommend bringing in energy boosters like protein bars, nuts, and chocolate.
Kendal Mint Cake is a favourite trekking snack for many climbers on Kilimanjaro Tours. Ginger-based snacks or ginger/peppermint tea can help your stomach. A few Coca-Cola bottles might satisfy cravings but be mindful as excessive consumption can make you feel heavy.
Meet Your Guides & Hire What You Need
Before your Mount Kilimanjaro Climb, guides usually meet you at the hotel for a briefing and to check your equipment.
Theyusually list missing items; you can rent them the following day. Consider renting walking poles, especially if descending is tough on your knees.
Pack Efficiently & Relax
Organize your Kilimanjaro Daypack the evening before your trek. This daypack will contain all the essentials you requirewhen trekking via the route to the majestic heights of the mountain.
Leave unnecessary items at your hotel.
Things like laptops or jeans won't be needed.
Sleep early; cherishthose last daysin your comfortable bed,as you won't get one for a while.
Indulge in a good breakfast before setting off on your Mount Kilimanjaro Climbing Tours.
For those keen on making the most of the journey, remember that proper preparation leads to a successful Mount Kilimanjaro Climbing experience.
DURING YOUR KILIMANJARO TREK
Once your Kilimanjaro Climbing adventure begins, maintaining stamina and morale is crucial. You can also adopt the following strategies for a rewarding climb.
Go "Pole Pole"
When Climbing Kilimanjaro, resist the urge to speed up. Taking it slow, or "pole pole" in Swahili, helps in altitude adjustment and ensures a smoother ascent.
Prioritize Foot Care
Your feet are crucial on your Mount Kilimanjaro Climb. So, keeping them in excellent condition would be best to get you up the mountain. For a successful trek, it's essential to prevent blisters. For that, you can do the following things:
Break in your boots before the trip.
Clean your feet each evening.
Use fresh or dry socks daily.
Trim toenails before trekking and again before summiting.
Begin wearing blister plasters from the start of the climb.
Carry comfy and closed-toes shoes to wear around the campsites.
Essential Information: On Kilimanjaro Climbing Tours, porters offer warm water with soap to wash twice daily. Mornings are suitable for a quick,intimate area and armpits wash, and evenings are for cleaning your face and feet. Keeping feet clean enhances their condition during the journey.
Hydrate Yourself and Eat Right
On your Kilimanjaro Climb, drink plentiful water to compensate for the sweat. Aim for 3 litres or more daily. Consider using a hydration bladder like Camelbak for easier access.
Additionally, you can get an insulated tube to avoid freezing water inside the summit night. Ensure you remember to expel the water back into the bladder.
To keep up your energy levels when Climbing Kilimanjaro, relish the meals offered by your trekking company.
Breakfast includes cereals, porridge,toast, coffee, tea, and hot chocolate.
Lunch is either packed or cooked lunch.
For dinner, you are usually served snacks, including popcorn and hot drinks, followed by soup and a main meal.
If eating becomes challenging due to altitude, consider Diamox and have snacks handy. Supplements like Vitamin C and Zinc can boost immunity during the trek.
Keep a positive Mental Attitude
Climbing Mount Kilimanjaro is more about your mindset than your strength. Keep believing you can reach the top. Don't let doubts hold you back.
Listen to things that boost your mood, like podcasts or music. Try meditation or imagine yourself at the peak if you're into it.
When you finish the climb, trust us that you'll feel proud and stronger than ever before.
Other Essential Tips for a Successful Kilimanjaro Trek
Here are 11 essential tips that you need to know when Preparing to Climb Kilimanjaro:
Carry Diamox. You will need it to treat altitude sickness and increase oxygen levels.
Stay Organized: Use packing cubes to sort items; it keeps your tent tidy.
Practice Yoga: Stretch lightly after hikes for relaxation and muscle relief.
Protect Yourself: Wear sunscreen, long sleeves, and sunglasses to guard against harsh sun.
Stay Warm: Use a quality sleeping bag and insulated clothing to combat cold nights.
Protect Batteries: Sleep with electronics inside your sleeping bag to prevent battery drain in the cold.
Choose Camera Wisely: Opt for lightweight cameras; easier to carry and keep warm.
Leave No Trace: Pack all waste, including toilet paper, in your spare bags. You can always dispose ofit later in the trash bag in the camp.
Bond with Crew: Engage with, appreciate, and remember the names of those helping you.
Trust Guides: Listen to their advice, especially health checks and when to descend. They know the region lot better than you.
Seek Signal:Watch where porters and guides congregate with phones in their hands. This is where you will get phone reception.
AFTER YOUR KILIMANJARO TREK
Remember to sign out at the base once you're down from Climbing Mount Kilimanjaro. There's a spot to grab a beer, and it's a kind gesture to buy one for your guide.
After your trek, it's time to relax. Enjoy a cold drink, eat a big meal, perhaps a pizza, or pamper yourself with a massage.
Also, consider a visit to nearby hot springs. Most importantly, relish your first refreshing shower and the comfort of a regular toilet!
Let Your Preparation Meet the Elation of Climbing Kilimanjaro
After all the dedication in Preparing ToClimb Kilimanjaro, the reward of reaching the summit is unparalleled. It leaves you not just physically drained but mentally exhilarated.
Being in nature, away from daily distractions, and achieving such a feat will surely give you immense pride.
We recommend documenting the feeling: Record a quick voice note expressing your gratitude and joy on your phone.
Whenever life gets challenging or mundane, replay it. The memory of Climbing Mount Kilimanjaro will instantly uplift you.
Considering a journey like this? Check out Climbing Mount Kilimanjaro Packages offered by Tanzania Tribe Safari.